Around this time of year we get the urge to do some home improvements to brighten things up. The days are short and the amount of light we get really starts to affect our mood, leading to seasonal affective disorder in extreme cases.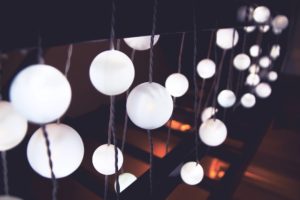 We're so lucky in Sussex to have the sea on our doorstep, especially where I live in Saltdean where I can see the sea from my house, but it can get really bleak! Sometimes it seems like winter is going to last forever, staring out into the seemingly endless cold water.
So it's natural to turn to our own homes, our havens to brighten the spirit and enlighten the dark winter days. These unique, DIY lighting ideas are sure to brighten up any indoor or outdoor space and give your spirit a lift…
Creative Home Lighting Ideas
Add a touch of creative flair with these easy, DIY lighting ideas:
Hang fairy/LED lights outside
Fairy lights aren't just for Christmas anymore. They are now found bedecking patios and decks year-round, draped artfully from fences and walls, spiraling around columns and lampposts, and adorning pergolas and trees. You'll find them in an array of styles and colors, from throwback Edison bulbs styles to old-school incandescents and the latest energy saving LED technology. You can use them to make wine bottle lights, integrate them with your balcony banisters, use them for a waterfall effect or buy quirky LED lights in the shape of unicorns, mermaids, dinosaurs etc to keep the kids happy.
Install low-voltage landscape lighting
Landscape lighting is easy to add to your home, bringing key features of your garden to life, and improving safety around pathways, entryways and stairs. Low-voltage landscape lighting is particularly easy for DIY-ers to install, using a transformer to step-down the typical 120-volts of electricity to a mere 12-volts for efficiency and increased safety in wet outdoor environments. Available in a wide array of styles from pot lights to track and rail lights, pendants, and display lighting in a range of fixtures, lenses, bulbs and beams, you're sure to find a unique style to suit your tastes.
Install track lights in dark areas or to display artwork.
Once popular in the 80s and 90s, track lighting is making a comeback in unique, modernized shapes and styles ranging from straight lines to curves, spirals and zigzags. Offering infinite adjustment possibilities, it is the perfect solution to illuminating dark spaces without the need for adding additional wiring and fixtures.
Repurpose antiques to make a unique lamp
If you've got an eye for a bargain, or an obsession with The Antiques Roadshow, you can really transform car boot finds into beautiful statement pieces using light. A quick visit to Pinterest will give you all the inspiration you need to start creating your unique masterpiece.
Replace visible bulbs in light fixtures with Edison bulbs.
With a unique, antique look and feel, Edison style light bulbs are becoming increasingly popular. Like illuminated art, the warm, golden glow of these curved filaments and bulbs will add instant flair to any fixture. They look super smart and add a touch of style to any lighting feature.
Adding a dimmer switch to any light fixture allows you to easily change the ambiance in a room – and save energy!
Looking for a creative home lighting addition that's a bit more advanced? Let us come to your house and make some recommendations. We can advise about the latest in lighting technology and design and also let you in on some design features we've been learning about.  Get in touch with Dan today on 07917 181068. 
If you need a professional opinion with any of the above, call me today on 07917 181068 or contact me for a quote.  Even if just for a second opinion, it's always better to be safe and consult a fully qualified electrician.