How to Improve Your Outdoor Space with Lighting
The glorious summer of 2018 is coming to a close and the days are getting shorter. But your home doesn't have to spend winter in the dark! There are loads of great ways to update and improve the outdoor areas around your Sussex home. Some of the properties along the seafront from Saltdean through Brighton and out to Worthing are great examples of how to show off your home using creative lighting whilst creating a stunning, welcoming, homely feel for you.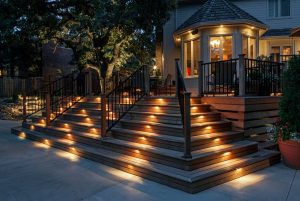 Today I'm going to show you how to modernise your home, add value and bring some beautiful, warm outside light to your home over the long winter months.
What do you want to improve?
There are two primary ways to look at outdoor lighting. One is, as you are probably already thinking about, aesthetics. The other is security. You can of course do both, but identifying what exactly you're aiming for will help you save money and frustration by trying to do everything at once.
Improving aesthetics through outdoor electrical lighting in Sussex
Want to use outdoor lighting to beautify your space? It's a great idea! Lighting is excellent because it can slot in essentially anywhere in outdoor design. It can play the role of primary focus, or it can just as easily highlight areas of your outdoor space you particularly enjoy.
Use accent lighting to highlight the spaces you love most. Accent lights like pendant lights, lamps, and certain types of uplighting are great for keeping the most gorgeous aspects of your landscape visible and striking in the evening hours.
Driveway lighting makes your home feel more welcoming. One of the most common mistakes we see in outdoor lighting is a gorgeous, well-designed, and well-lit home exterior, and then nothing but darkness leading up to the house. It tends to make homes look imposing rather than appealing, and driveway lighting can fix this in one simple and effective project.
Uplighting is stunning for trees and outbuildings. Particularly fond of that imported cherry blossom, garden office or new outdoor feature? Uplighting adds both night- time visibility and a fantastic look when done properly.
Plan decking and patio lighting for hosting the best parties. Like to entertain? Outside parties shouldn't stop just because the weather is colder – there are loads of opportunities like Hallowe'en, Bonfire night, Christmas drinks and no one likes to huddle up around the one outdoor heated lamp or a single fire pit. Instead offer guests safety and an appealing view with carefully planned decking lighting that makes your outdoor investments shine and integrated electric heaters that keep your guests toasty warm.
Boosting Security with Outdoor Lighting
Building something beautiful is always worthwhile but using lighting for security can also bring you lots of benefits. And done right, it can even add aesthetic value at the same time!
Motion lighting is an excellent deterrent. Crime around the quieter streets of Saltdean, Rottingdean and Peacehaven has been on the up recently – motion lighting set near entryways and windows can be a real deterrent for unsuspecting intruders, sending them packing.
Flood lighting boosts your outdoor safety. Flood lights near buildings or areas you tend to frequent in the evening reduce tripping hazards and help you find your way safely. Path lighting can also pull double duty here, offering beauty and sure-footed safety.
I've used my own home as my most recent portfolio item of how to really enhance your home with outdoor lighting – and I'd be happy to share my experience and some pictures with you. My home has increased in value and is totally set apart from the rest of the houses in the street (in my humble opinion!) and I have a sense of pride every time I arrive home.
If you need help designing your new outdoor lighting fixtures, or ready to begin a new lighting project to beautify your landscape, contact the certified electricians at Williams Electrical Contractors.